Highland Park 25 yo OB
Highland Park in Kirkwall, Orkney is the most Northerly Scotch whisky distillery.
Its geographical location, for an idea of just how remote:
This is not the distillery you decide to visit while randomly driving around the highlands, but what it lost in accessibility it certainly gained in quality.
Highland Park is no doubt a top tier and well loved distillery with an amazing core range from 12 – 40 years old, plus the one-off 50 yo, and recent vintage bottlings.
Though the 2013 Valhala bottlings are beginning to look a little gaudy…
Highland Park 25 yo OB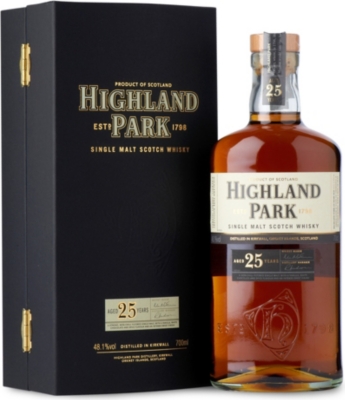 Nose: Salt air, but also rich – Figs and dates, nutmeg and marmalade? – and sloshingly syrupy, full of honey sweet notes and a stony fragrance. Like small flowers growing against wet windswept stones on a sea cliff. A distant campfire burns somewhere below. High proportion of sherry casks here. 48.1% helps loads.
  Palette: Sweet heather honey and smoke. chewy and luscious desert spices leather armchair polish.
  Finish: Medium Long, turns all herbal and astringent.Licorice.
Wonderful core range, beautiful balance, bit of everything to please everyone.
Highland Park 16yo OB Duty Free Exclusive (circa 2007) and 12 yo OB (circa 2009)
Primitive tasting notes for these two:
Highland Park 16yo OB
Nose: Heather and honey. Rocky minerals and  dried flowers. Fruit poached in cream.
Palate: Sea spray, coastal, drop of iodine? That light fruitiness sticks around.
Finish: Dried green leaves and potpourri.
Highland Park 12 yo OB
Nose: Sherried notes, loads of it. Thick cut marmalade and an oily nuttiness.
Palate: Fresh, sweet and thick. Immediately smoky and malty, honey and sherry. Creamy and full.
Finish: Medium, pleasing finish with an astringent end.